Call for Proposals_draft
Call for proposals for access to integrated multidisciplinary facilities for Materials and Biomaterials
CERIC-ERIC offers access through a single entry point to more than 50 different and complementary state of the art techniques and support laboratories, distributed in 10 countries, with the submission of single or multi-technique proposals. A detailed description of the facilities available in CERIC can be found here.
How to apply
Access to CERIC is open to scientists from all over the world and free of charge, providing the results end data are made available to the community in a reasonable time. Proposals should be submitted online through the Virtual Unified Office (VUO). The best projects will be selected by peer review through an independent and international panel of experts. More information here
What is new in this call
CERIC is increasing its capacities in the field of Energy materials. To this end, we will upgrade certain beamlines/instruments during this year in order to improve our services. In the first step, the upgrades will address battery research and we invite the users to check the instruments pages or contact the instruments scientists for forthcoming development
Additional Facilities available
The Ultraviolet Laser Facility of the Foundation for Research and Technology – Hellas (ULF-FORTH) in Greece
The X-ray Absorption Spectroscopy beamline LISA@ESRF
The new soft X-ray Beamline PHELIX@SOLARIS
Due to an important upgrade, the NAPXPS instrument in Prague will not receive user proposals in this call
Remote Access
Due to the COVID-19 emergency and according to the local evolution of the pandemic, some of the CERIC facilities may propose to perform measurements remotely, through sample mailing.
It will be possible to express your availability for remote measurements in the proposal submission form.
Multi-technique proposals
For the following synchrotron beamlines, only multi-technique proposals will be considered:
BAEL – Band Dispersion and Electron-Phonon Coupling
ESCA – Esca Microscopy
GAPH – Gas Phase Photoemission
SUES – High Resolution Core-level Photoemission Spectroscopy
IUVS – Inelastic Scattering with Ultraviolet Radiation
MCX – Materials Characterisation by X-ray Diffraction
NASP – Nanospectroscopy
TwinMic – Soft X-ray Transmission and Emission Microscope
SPEM – Spectromicroscopy
SISSI-Bio – Synchrotron Infrared Source for Spectroscopy and Imaging (Chemistry & Life Sciences)
SYRMEP – Synchrotron Radiation for Medical Physics
XAFS – X-ray Absorption Spectroscopy
XRD1 – X-ray Diffraction
Two-step application
The first deadline allows a pre-evaluation of the proposal at the facilities and, if necessary, two weeks for editing on the basis of the comments, before final submission at the second deadline. Although we suggest taking advantage of the pre-evaluation, expert users may decide to submit their proposals directly at the second deadline.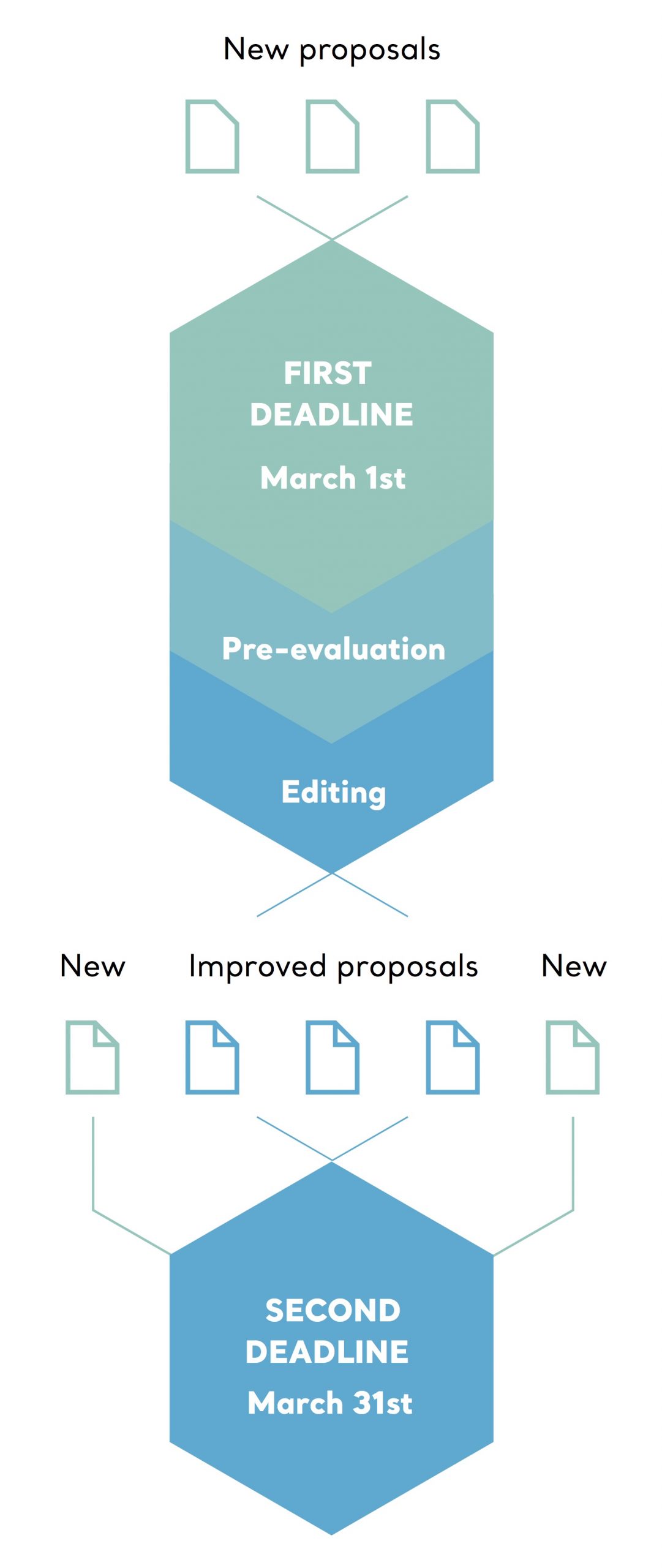 Deadline
March 1st 2021 at 17:00 CET to have a pre-evaluation and the possibility to improve your proposal
March 31st 2021 at 17:00 CET final submission, recommended only for users that are expert in all the techniques requested.
Nanobiotechnology Laboratory at JRC ISPRA
CERIC is teaming with the Open Access to JRC Research Infrastructures programme. Kindly let us know at the moment of your application, if you would be interested, in the future, on having access also to the instruments of the Nanobiotechnology Laboratory at Ispra through CERIC calls.
Fast track access
Fast access for feasibility studies is available at any moment.
COVID-19 Fast Track Access
In order to facilitate the research on the COVID-19, CERIC has set up a dedicated COVID-19 Fast Track Access to a selected number of instruments.
CERIC user office: useroffice@ceric-eric.eu


ACCELERATE is funded by the European Union Framework Programme for Research and Innovation Horizon 2020, under grant agreement 731112.