How to Join Us
JOIN CERIC AS A 'MEMBER' OR 'OBSERVER':
Membership to CERIC-ERIC is open to interested Member States with the possible participation of qualified associated countries in the Community framework programme for research, technological development and demonstration (hereinafter referred to as 'associated states'), third countries and specialised intergovernmental organisations. Membership is not limited to a certain geographical region.
Each Member may appoint one 'Representing Entity' which shall be an Institution that can support the scientific/technical operation of CERIC-ERIC including the provision of access to one facility ('Partner Facility') of which it has ownership.
Member States of the European Union, third countries and intergovernmental organisations may become Observers in CERIC-ERIC through specific agreements in the following cases:
when they intend to apply for full membership while still developing appropriate Partner Facilities;
when they are involved in joint projects with specific scope and time perspective.
Each Observer may appoint one representative to attend the CERIC-ERIC General Assembly without voting rights.
What is the procedure?
JOIN CERIC AS AN 'ASSOCIATED FACILITY':
The Associated Facilities collaborate with CERIC but are not formally part of CERIC, therefore minor derogations may apply to CERIC rules and procedures. They may take part in CERIC calls on a trial basis for a limited duration of up to 3 years, that can be prolonged by ISTAC. They offer access on the same (free) basis as the other CERIC Facilities. The addition of these facilities is based on the opinion of ISTAC (International Scientific and Technical Advisory Committee), while the General Assembly is informed during the annual reporting.
ISTAC will evaluate the facility following these criteria:
1) Must be a user facility with
a. dedicated staff for supporting external and potentially inexperienced users,
b. infrastructure like a data Policy, guest house, travel Office, etc.
2) The equipment offered must be unique. A collection of good commercial Instruments does not qualify.
3) There must be a pan-European perspective adding value to users in other countries and strengthening collaborations across Europe.
What is the procedure?
A facility (which is not a Partner Facility of CERIC), may become Associated facility to:
temporarily expand the offer due to a certain project or a particular topic, and
build mutual trust and understanding between CERIC and a facility in order to explore/develop relationship with a potential new Member.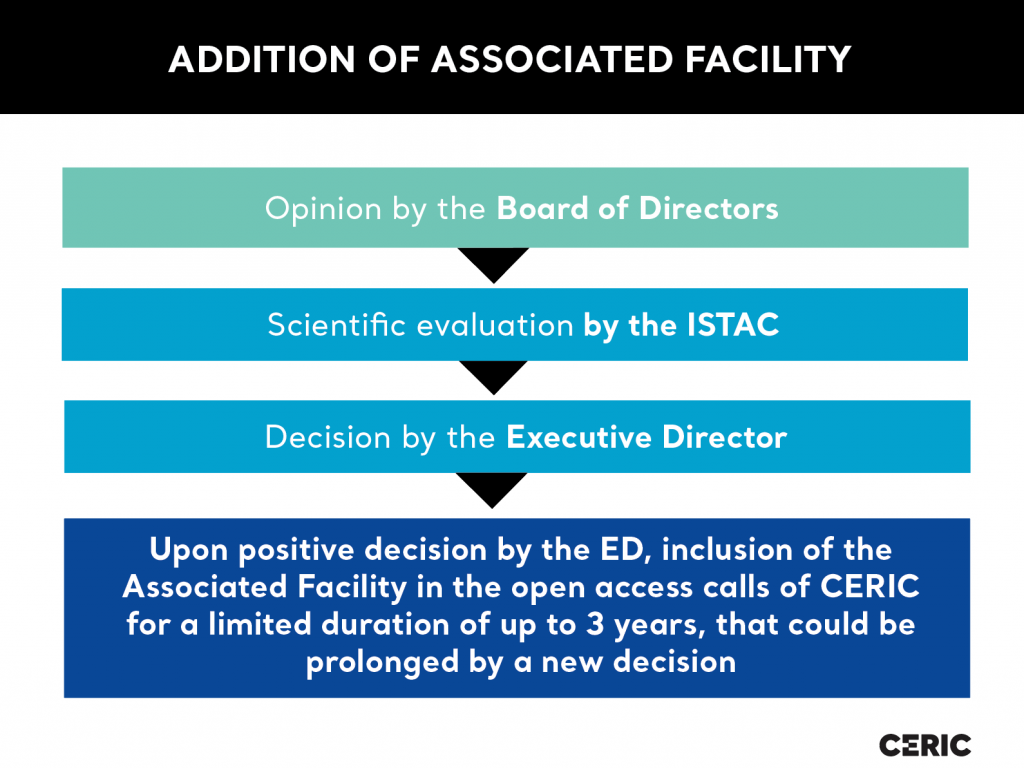 ►

Download here the application form.

For more information, contact: joinus@ceric-eric.eu