Nano-analytics provide a helping hand for improving drug formulations
|
Is it possible to improve the effectiveness of a drug while reducing its side effects? The CERIC project Nano-Analytics for Pharmaceutics (Nano-Pharma) aims at improving drug formulation by applying and developing advanced nano-analytical instruments.
Dr. Aden Hodzich, principal investigator of the research project, and colleagues published in the Journal of Drug Delivery Science and Technology a research about one of the most common over-the-counter medications, ibuprofen. Such work verified that the ibuprofen molecule might degrade under certain preparatory conditions. Many of the analytical instruments available at CERIC's partner facilities were employed for this research. For instance, X-ray-based experiments realised at the SAXS beamline at the Austrian CERIC Partner Facility at the Elettra synchrotron allowed to identify parameters compatible with the degradation of the ibuprofen molecule. Other experiments based on Infra-Red (IR) and NMR were realised at the Italian and Slovenian Partner Facilities at the Elettra synchrotron in Trieste and the National Institute of Chemistry, respectively.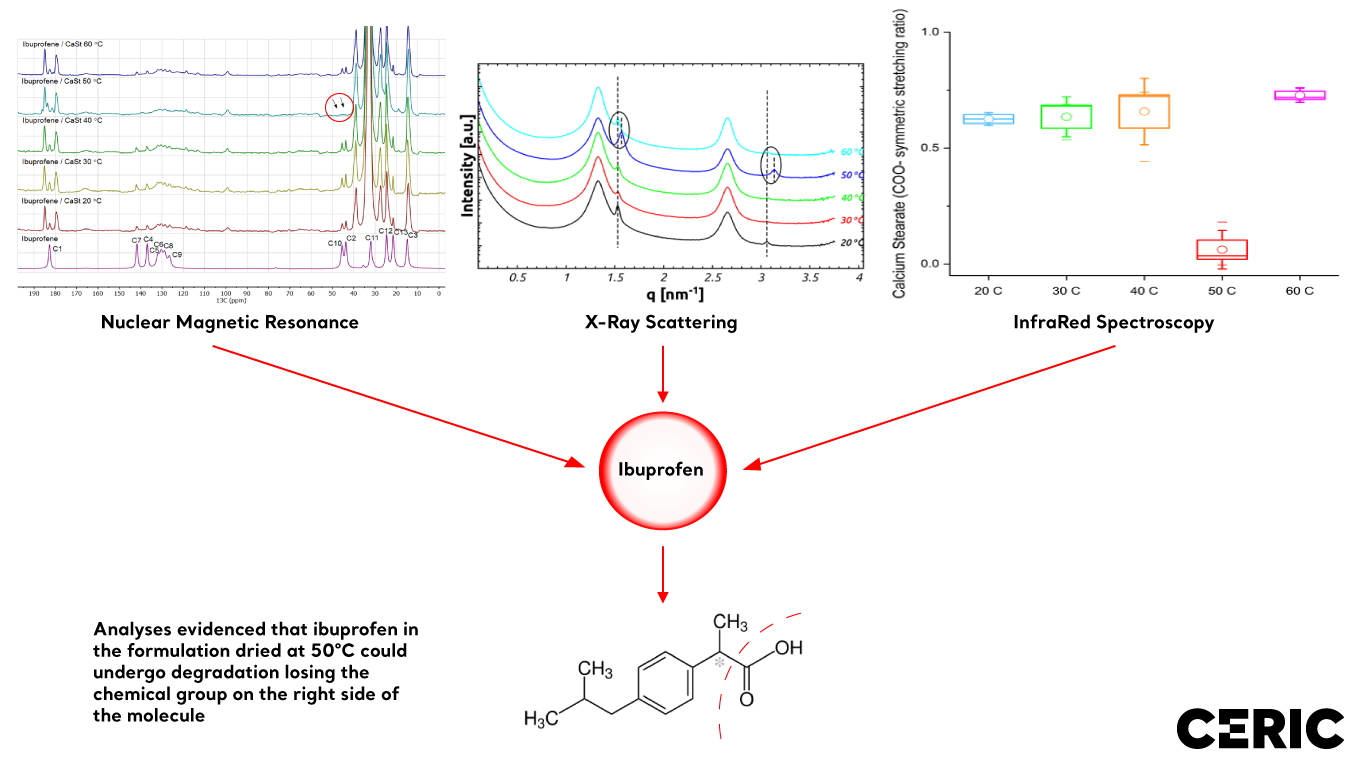 The combination of such analyses with further experiments and calculations from the laboratory at TU-Graz, the Austrian CERIC Partner Facility, allowed the identification of traces of a toxic molecule resulting from ibuprofen degradation. Previous studies could not detect such degradation due to the lack of high-resolution analytical laboratories and synchrotron tools. However, the nano-analytical approach can enable the analysis, formulation and production of safer and more effective drugs to meet the most stringent criteria of the medicine regulatory agencies.
ORIGINAL ARTICLE:
Revealing hidden molecular nanostructure details in the pellet formulation of ibuprofen by combining Synchrotron and laboratory sources. Hodzic A., Birarda G., Juraic K., Sket P., Eder S., Kriechbaum M., D'amico F., De Giacomo O., & Roblegg E., Journal of Drug Delivery Science and Technology, 2022.