COVID-19 Fast Track Access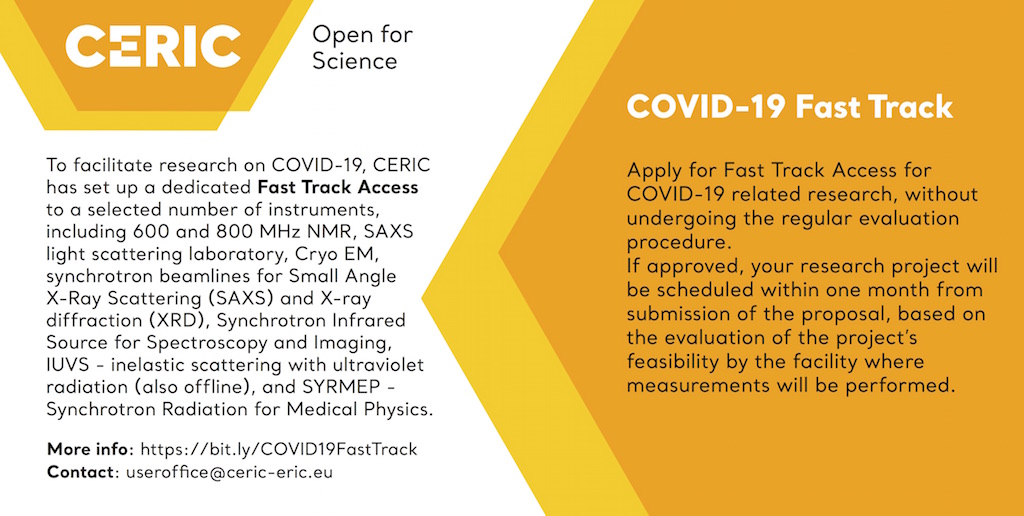 In order to facilitate the research on the COVID-19, CERIC has set up a dedicated Fast Track Access to a selected number of instruments.
The dedicated Fast Track Access will allow to access the selected instruments for research related to the COVID-19, without the necessity to undergo the regular evaluation procedure, and be scheduled within one month from the submission of the proposal, based on the feasibility evaluation performed by the facility.
Instruments available:
NMR at the National Institute of Chemistry in Ljubljana:
TUGraz facility
Synchrotron facility Elettra in Trieste
SOLARIS National Synchrotron Radiation Centre in Kraków
The Italian Network for Micro and Nano Fabrication:
Please note that since these facilities do not have a special bio-safety accreditation, each project applicant is expected to consider this fully when submitting a proposal and in the later stage samples, and to disclose all data relevant for safety of the staff at individual facility. Only samples guaranteed as non-harmful and with no ability to cause or transfer viral infection can be accepted for research.
Due to the travel restrictions in place for several countries, remote access will be preferred.
Proposals have to be submitted through the VUO. After registration/login, follow the dedicated link "Submit a new FAST TRACK related to COVID-19 research".
For more information, also regarding the commercial use, please contact useroffice@ceric-eric.eu
As a pilot of open access of the H2020 project ACCELERATE, all scientific information generated must be available and reusable through online access that is free of charge to the end-user. 'Scientific information' can mean:
1. peer-reviewed scientific research articles (published in scholarly journals), or
2. research data (data underlying publications, curated data and/or raw data).
'Access' includes not only basic elements – the right to read, download and print – but also the right to copy, distribute, search, link, crawl and mine.
The 2 main routes to open access are:
Self-archiving / 'green' open access – the author, or a representative, archives (deposits) the published article or the final peer-reviewed manuscript in an online repository before, at the same time as, or after publication. Some publishers request that open access be granted only after an embargo period has elapsed.
Open access publishing / 'gold' open access – an article is immediately published in open access mode. In this model, the payment of publication costs is shifted away from subscribing readers.