19th CERIC Call for Proposals now OPEN
The 19th CERIC-ERIC Call for Proposals, that will allow coordinated access to more than 60 instruments and support laboratories, is now open. As usual, in addition to the possibility to access several instruments and laboratories through a single application, we offer support for mobility.
To apply, use the link "Submit a new CERIC proposal" in the VUO (https://vuo.elettra.trieste.it/)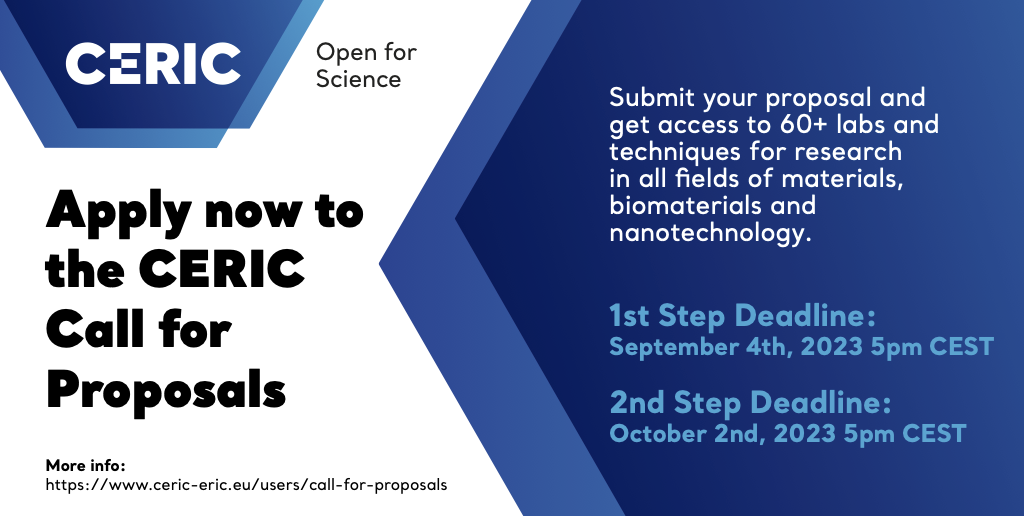 As usual, for the 19th call (the second of 2023) there will be two deadlines:
September 4th 2023, at 17:00 CEST, to have a pre-evaluation and the possibility to improve your proposal;
October 2nd 2023, at 17:00 CEST (final submission), recommended only for users that are experts in all the techniques requested.
What is new in this call
CERIC is still increasing its capacities in the field of Energy Materials. To this end, three energy storage facilities with state-of-the-art techniques in the field of fuel cells and batteries research, have been recently included in CERIC open access offer:
Additional instruments available
For further information about the call, please visit the related page on our website: https://www.ceric-eric.eu/users/call-for-proposals/
Remember you can also apply anytime for the dedicated Fast Track Access for feasibility studies and for commissioning, on the available instruments.