CERIC at ESOF2020 / Join our Live Science Talks @ the Science in the City Festival
Date
02.09.2020 - 06.09.2020
Location
online
Visit CERIC, or join us online, at the ERF-AISBL booth at the Science in the City Festival @ ESOF 2020 – Magazzino 28, Porto Vecchio, Trieste (Italy), from 2 to 6 September 2020.
As in every edition of the European Science Open Forum, the Science in the City Festival will address a public of all ages who is curious about science. The Festival is also a great way to experience how science engages, interacts, and builds bridges between researchers, delegates and the public.
CERIC will be contributing to the Festival in the booth of the ERF-AISBL (European Research Facilities Association), with a set of recorded and online/onsite live talks by some of the researchers who benefited from the open access to the CERIC laboratories and instruments, for research in all fields of materials, biomaterials and nanotechnology.
CLICK HERE TO CONNECT and ATTEND THE SCHEDULED LIVE TALKS.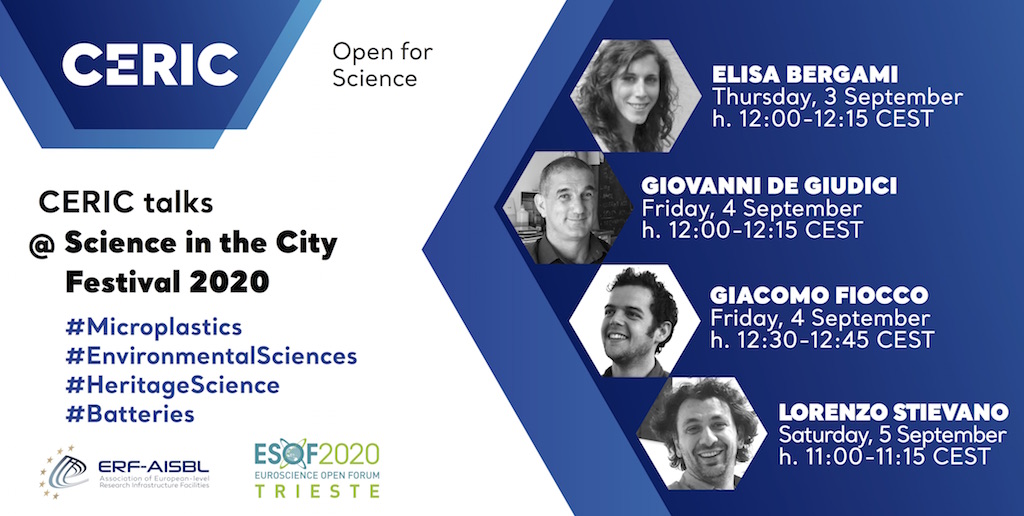 All live talks will also be accessible from the ERF exhibit hall at the Magazzino 28 of the Porto Vecchio in Trieste, in the building of the main Conference Hall, as well as remotely, via Zoom (direct link to the event HERE).
Come to visit us, or stay connected to listen to and interact with our scientists, who will introduce you to their research studies in the fields of environmental sciences, cultural heritage, batteries and energy materials.
PROGRAMME:
Thursday, 3 September 2020, h. 12:00-12:15, Elisa Bergami (Department of Physical, Earth and Environmental Sciences, University of Siena) – Environment and microplastics news from Antarctica / Ambiente e microplastiche: notizie dall'Antartide.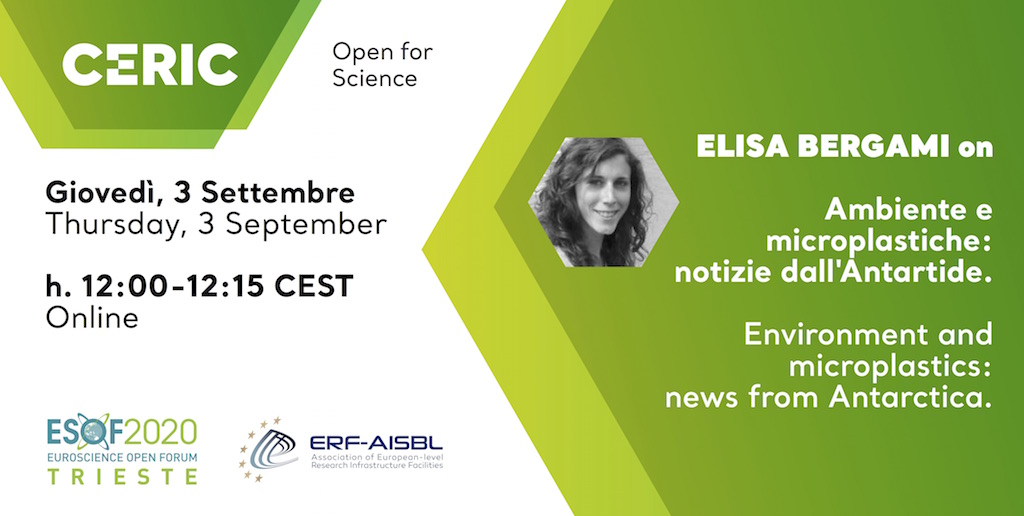 Friday, 4 September 2020, h. 12:00-12:15, Giovanni De Giudici (Department of Chemical and Geological Sciences, University of Cagliari)- Dispersion of metal in historic mine areas: microscopic processes and environmental resilience / Dispersione di metalli in aree minerarie storiche: processi microscopici e resilienza ambientale.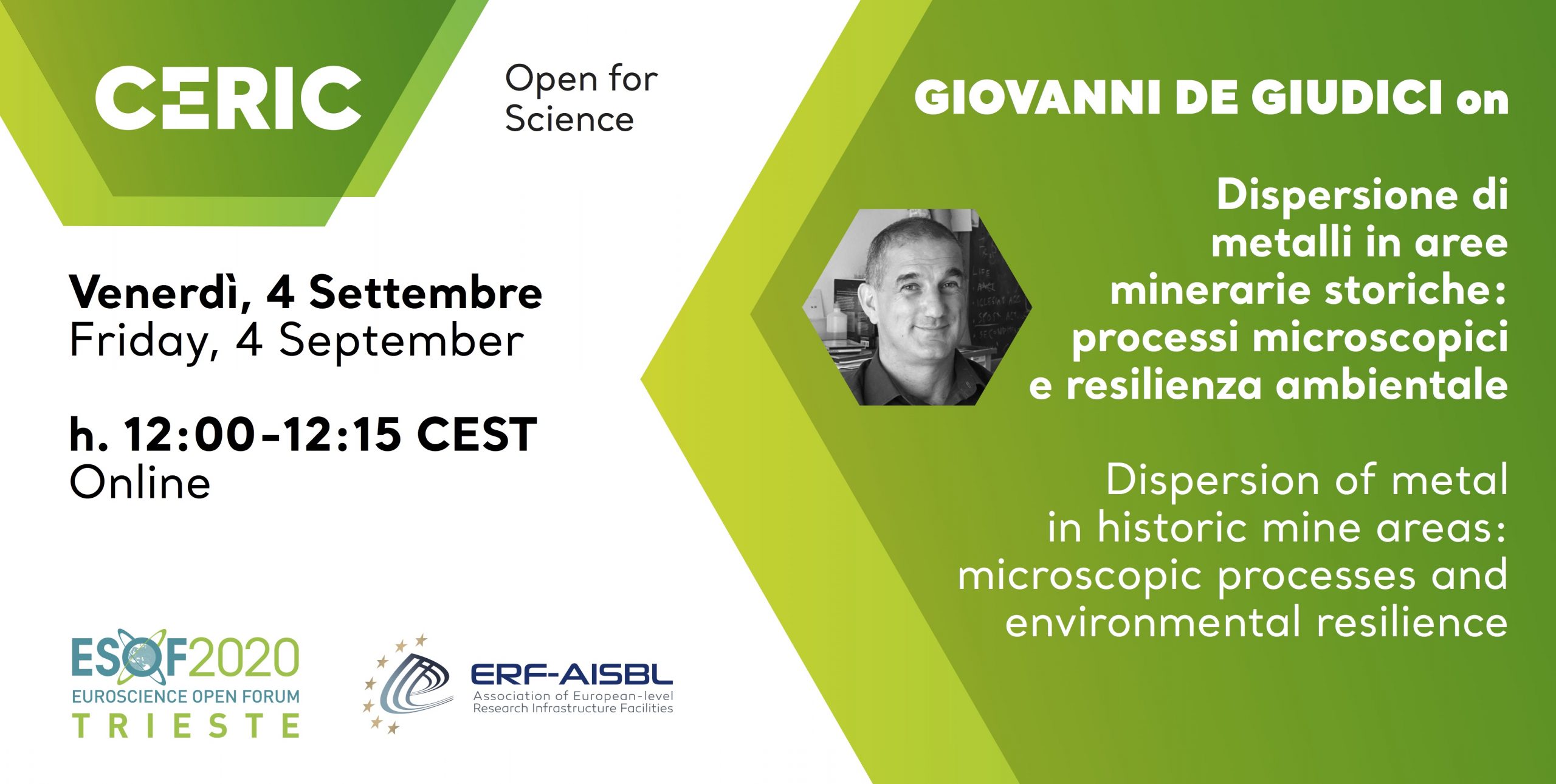 Friday, 4 September 2020, h. 12:30-12:45, Giacomo Fiocco (Laboratorio Arvedi di Diagnostica non Invasiva, CISRiC, Università degli Studi di Pavia) – Synchrotron light and cultural

 

heritage: a travel through the varnishes of the historical Cremonese violins / Luce di sincrotrone e beni culturali: viaggio attraverso le vernici dei violini storici cremonesi.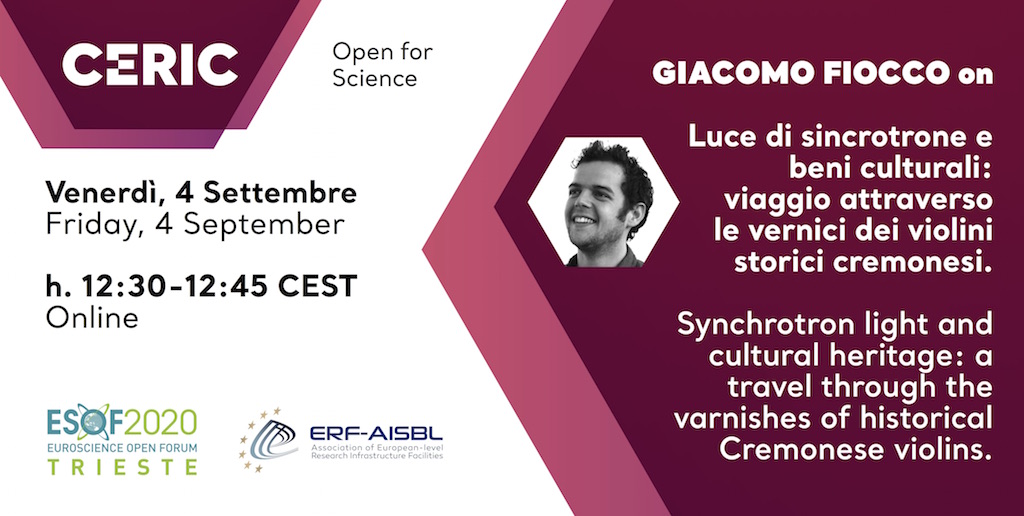 Saturday, 5 September 2020, h. 11:00-11:15, Lorenzo Stievano (Institut Charles Gerhardt Montpellier) – Future generation batteries: latest news and developments / Batterie del futuro: ultime novità e sviluppi.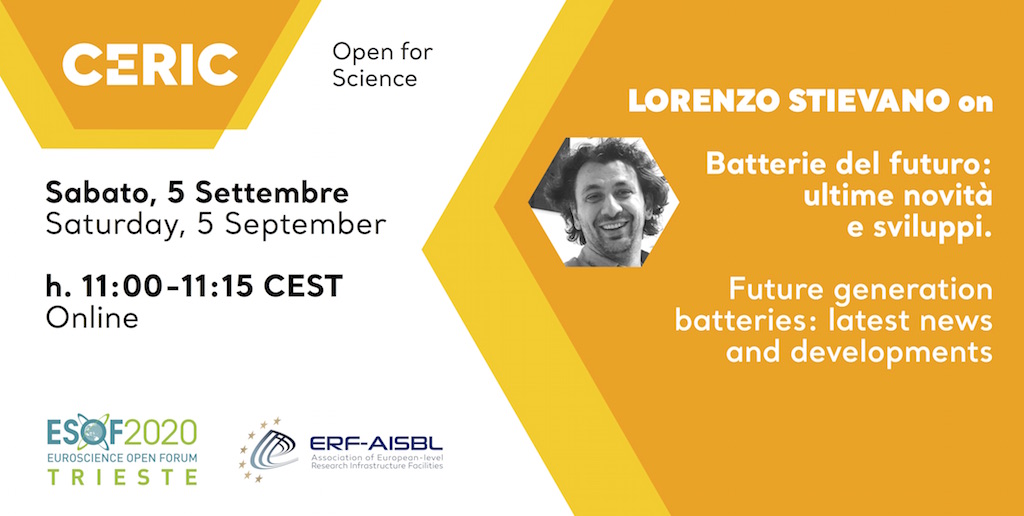 Find here the full programme of the ERF contribution to the Science in the City Festival @ESOF2020.