Best Practices and Success Factors of Industrial Liaison & Technology Transfer in Research Infrastructures
Date
26.09.2018 - 28.09.2018
Location
Vienna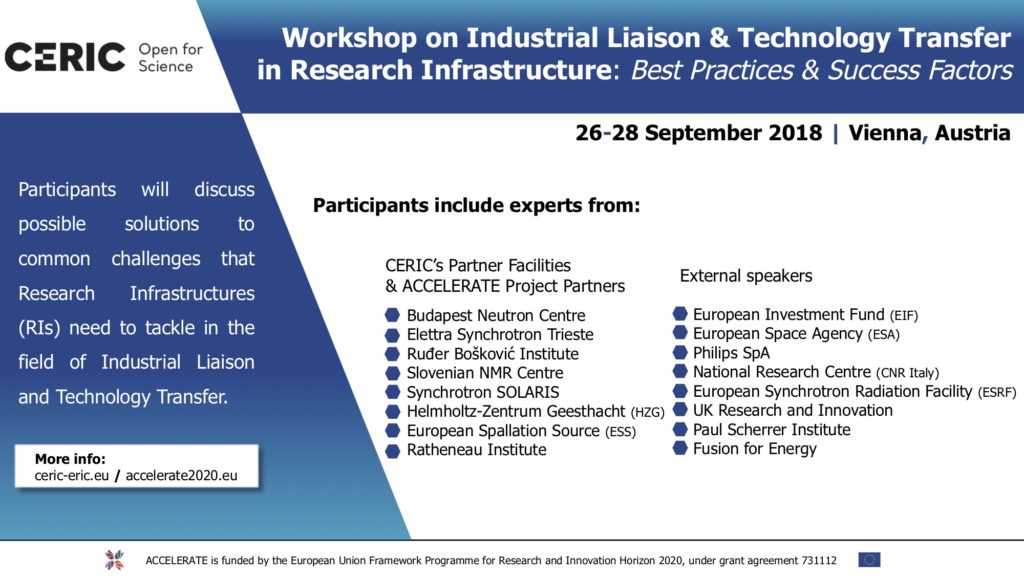 Industrial liaison and technology transfer are crucial to explore possible collaborations of research infrastructures with industrial partners. They also allow to increase the impact of research infrastructures as an innovation driving force for the society at large. However, there are several challenges to be faced for such a liaison to be successful.
On 26-28 September 2018, the Workshop on Industrial Liaison & Technology Transfer (IL/TT) in Research Infrastructures (RIs) was held in Vienna to discuss possible solutions to common challenges RIs need to tackle in the field of IL/TT. The event, organized by CERIC in the frame of the ACCELERATE project, gathered the distributed IL/TT staff of CERIC and its Partner Facilities (PFs) to share questions and best practices stemming from their experience as IL/TT professionals working in the research environment. The event involved external experts based in 12 different European countries  to share their knowledge towards the definition of effective synergies between research infrastructures, with the final aim of enhancing collaboration with industry through the consolidation of the RIs network.


Presentations covered a wide range of topics, including the Technology Transfer practices at the National Research Council in Italy (CNR) and procedures for partnering with industry at Fusion for Energy, the pillars of the space brokers network at the European Space Agency (ESA) and financing opportunity for technology transfer projects at the European Investment Fund (EIF). Furthermore, a representative of Philips introduced the participants to the industrial perspective of collaboration with Research infrastructures.
Two working sessions focused on the expectations and goals on IL and TT at CERIC and its PFs. Moreover, discussions were also focused on strategic and operational challenges of commercialisation of Research Infrastructures' solutions to the industry.
As an outcome, major aspects for successful collaborations were highlighted: the importance of the internal environment of an organizations for achieving its goals, the possible limitations of IL/TT operations, as well as the possibility to rely on external support.
Participants defined common actions of CERIC and its partners in the short- and mid-term, towards the development of a realistic, efficient and collaborative action plan in the long-term.
Download here the programme of the workshop.