Electron Spectroscopy for Chemical Analysis under Environmental Conditions Allows the Near Ambient Pressure (NAP) XPS Analysis of Catalysts, Liquids and Liquid-Solid Interfaces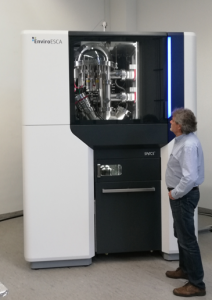 The SPECS EnviroESCA is a novel and smart analysis tool that overcomes the barriers of standard XPS systems by enabling analyses at pressures far above UHV. EnviroESCA is designed for high-throughput analysis and opens up new applications in the fields of catalysis, medical technology, biotechnology and the life sciences. It offers the shortest loading-to-measurement time on samples of all types including liquids, tissue, plastics and foils, powders, soil, zeolites, rocks, minerals and ceramics. It is Environmental, because it has a controllable atmosphere from sample loading to analysis, it contains an adaptable process gas dosing system it allows for the use of several specialized Sample Environments and it is compatible with all kinds of samples and sizes up to Ø 120 mm and 40 mm in height.
Contacts:
Miquel Gamón Rodríguez (tel. +420-95155-2749)
Iva Matolínová (tel:+420-95155-2241)
TECHNICAL SPECIFICATIONS
The PHOIBOS 150 NAP Analyzer is a true 180° hemispherical energy analyzer with 150 mm mean radius. It consists of a differentially pumped electrostatic pre-lens, with a three-stage differentially pumped PHOIBOS 150 analyzer. Thus, the design concept provides four separate pressure stages separated by apertures. The first pumping stage is separated from the analytic chamber by a nozzle with a customizable opening at the tip with diameters between 0.3 mm and 1 mm. By using a turbopump on the pre-lens stage, a pressure difference of four orders of magnitude can be achieved. The first and second stages are separated by an aperture. An in-lens gate valve allows a high-vacuum seal between of the PHOIBOS 150 Analyzer and NAP pre-lens and enables venting of the analysis chamber and pre-lens without venting the energy analyzer.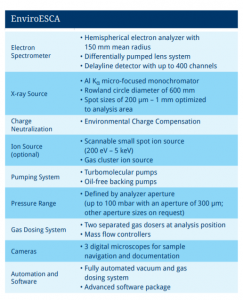 Equipped with three high resolution cameras, it enables documentation of the analysis area. For each measurement position a "through the lens" view with an optical resolution well below 10 μm and a wide angle view of the analysis position are recorded in conjunction with a survey view of the platter.
SAMPLE REQUIREMENTS
More technical details will appear as they become available for release on the instrument's webpage.