CERIC at the ERIC Forum Session within the Science Summit
Date
29.09.2021
Location
online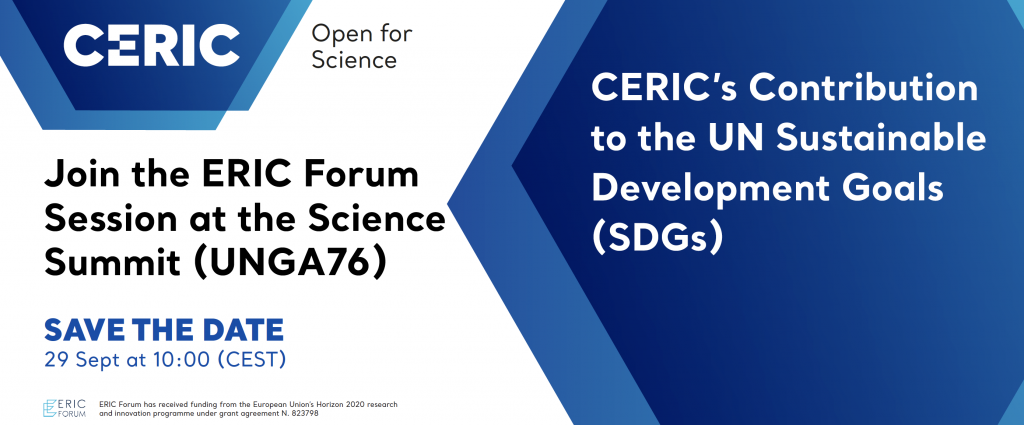 CERIC will take part in ERIC Forum session at the Science Summit event (UNGA76), which will be held on 29 September as from 10:00 CEST.
Through the session, ERICs' contribution to the various UN SDGs (Sustainable Development Goals) will be presented, highlighting examples of research studies supporting specific goals.
About CERIC's contribution to SDGs:
CERIC is a multi-sites Research Infrastructures with facilities covering a wide range of techniques, which can be applied in sectors spanning environment, energy, cultural heritage, aerospace, metallurgy, pharmaceutical, food and more.
In this regard, CERIC responds to the UN SDGs, with an increased focus on the development of services in the fields of energy and life sciences.
CERIC research projects provide ground-breaking discoveries that largely contribute to different sustainable development goals, in particular: SDG n.3, Good Health and Well-being, SDG n.7 Affordable and Clear Energy, SDG n.12 Responsible Consumption and Production and SDG n.15 Life on Land.
During the Science Summit session, CERIC representatives will highlight examples of research projects addressing the above-mentioned SDGs. Among these examples are CERIC projects related to:
(SDGs 7, 15) The production of artificial photosynthetic system with an increased efficiency, close to natural ones, that could be applied for environmentally-friendlier hydrogen production,
(SDGs 12, 15) The discovery of micro-plastics in small invertebrates in Antarctica, highlighting the widespread pollution of the water and raises concern on its impact in the fragile Antarctic terrestrial ecosystem.
(SDGs 3) The set-up of a dedicated fast track open access to a selected number of instruments, with the aim of facilitating research on the COVID-19.
► The Science Summit program is available here. Register here.