CERIC at SHARPER 23
Date
29.09.2023
Location
Trieste – Italy
Also this year the European Researchers' Night will involve thousands of researchers and research institutions in all European countries. CERIC will participate to SHARPER (SHAring Researchers' Passion for Enhanced Roadmaps), one of the Italian projects supported by the European Commission for the realisation of the European Researchers' Night, with two events that will be hosted on the 29th of September at the Immaginario Scientifico Science Centre in Trieste (Magazzino 26, in the Old Port of the city),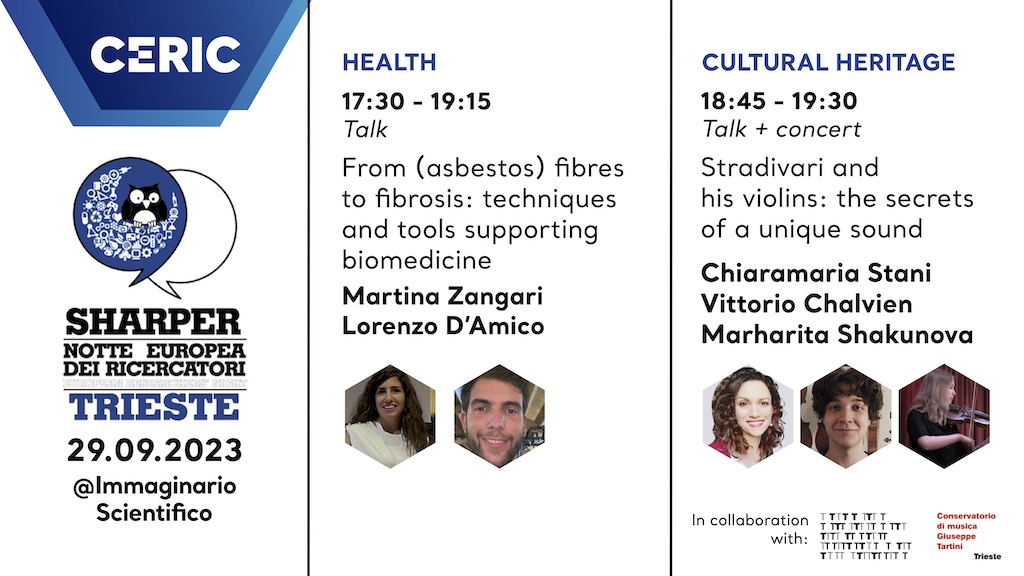 First, Martina Zangari and Lorenzo D'Amico, two CERIC PhD students, will participate to the event "Goal: health" (17.30 – 19:15) with a talk entitled "From (asbestos) fibres to fibrosis: techniques and tools supporting biomedicine". Thanks to their contribution, we will understand how the most advanced spectroscopy techniques at the micro- and nanoscopic level allow us to know what happens to the proteins in our bodies when they get in contact with asbestos fibres, or how – thanks to a combination of microscopy, imaging and histology – it is possible to characterise a degenerative phenomenon such as fibrosis.
Then Chiaramaria Stani, CERIC researcher, will talk together with Vittorio Chalvien, student at the Tartini Music Conservatory (Trieste) during the event-concert "Stradivari and his violins: the secrets of a unique sound" (18.45 – 19:30). In fact, almost three centuries after Antonio Stradivari's death, the secrets that make his instruments so special are still not so clear. However, thanks to the application of synchrotron light and some of the most modern investigation techniques, it is possible to retread some of the construction techniques that make the sound of a violin unique. An event in which, between harmonic theories and practical executions, science and art will merge.
Admission is free for both events.