ACCELERATE Webinar #12: Company Culture and Talent Management: Key assets to drive successful innovation and business growth
Date
14.07.2020
Location
online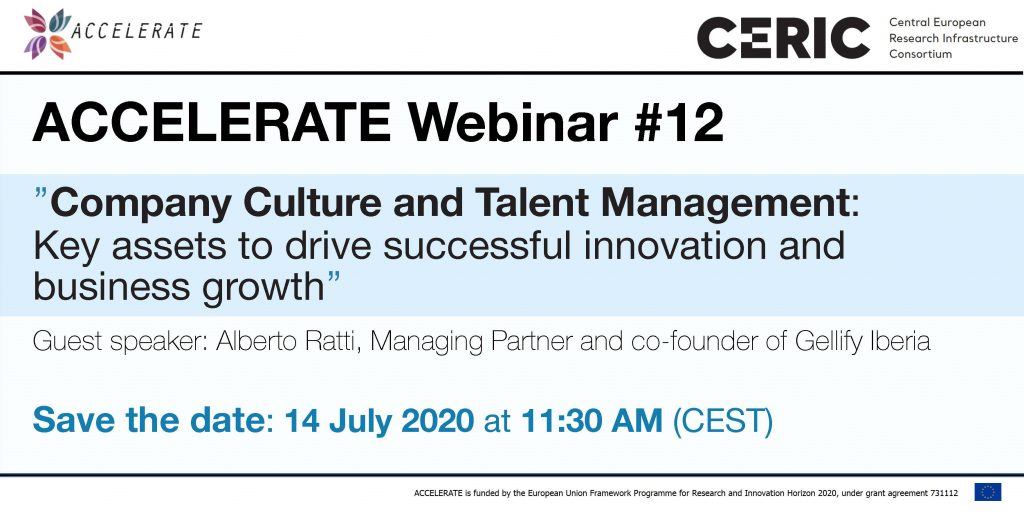 Save the date ►"Company Culture and Talent Management: Key assets to drive successful innovation and business growth".
The 12th edition of the ACCELERATE webinars will take place on 14th July 2020 at 11:30 am (CEST time). The speaker of this edition is Mr. Alberto Ratti, Managing Partner and co-founder of Gellify Iberia.
Overview
Company culture and talent management are often underestimated, but their importance is crucial in driving the success or failure of any type of business strategy, being this a merger/acquisition of a startup, or an internal innovation program to design new products and/or services.
Based on practical cases, the speaker of this edition will demonstrate how to build and apply an innovation-led cultural framework:
To manage the integration of external capabilities within a business organization after an M&A;
To map, retain and fully exploit the internal talent for designing new products/services or launch new ventures.
Alberto Ratti (MBA), is a Barcelona based entrepreneur with +15 years professional backgrounds on supporting business growth through business strategy, access to funds, and internationalization for diverse types of organizations, including startups, advisory firms, government agencies and research centers. He is currently Managing Partner and co-founder of Gellify Iberia, an innovation and technology advisory firm, resulting from the M&A with its previously founded business, BIBA Venture Partners, and the Gellify Group.
► Register here.