Bio-functionalised chitosan, a new approach for bone tissue engineering
|
The bone tissue is a lightweight yet strong structure, capable of self-repair in specific conditions. However, if the damage is extensive due to trauma or surgical procedure, the use of implants becomes mandatory. The technology of implants is improving day by day, and the performances of artificial scaffolds can be enhanced with natural biopolymers, such as chitosan, which also acts as an antimicrobial agent. This feature is crucial since it's estimated that orthopaedic device-related infections are in the range of 0.5-5%.
Next to antimicrobial properties, cell-biomaterial interaction can be improved using small peptides to functionalise a chitosan scaffold. This approach was adopted by Prof. Paola Brun (University of Padua) and colleagues, which employed two different small peptides called RGD and HVP. The functionalised chitosan was then tested for osteoblast's adhesion, growth, and differentiation, which will deposit the minerals to build new bone tissue. X-ray photoelectron spectroscopy (SR-XPS), available at the MSB beamline at the Czech CERIC Partner Facility at the synchrotron Elettra, was employed to confirm the chemical composition and the stability of the biomolecules.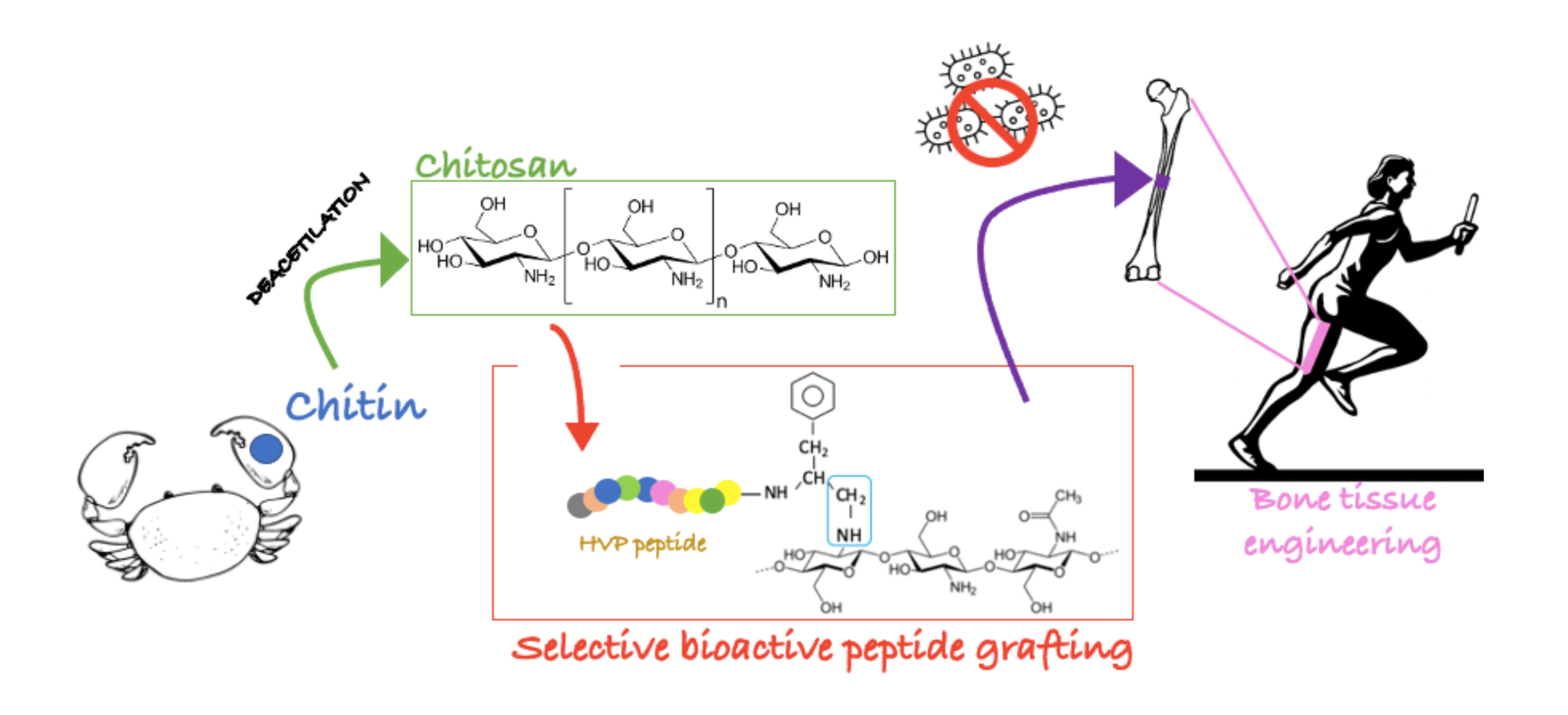 This study showed that HVP functionalised chitosan (Chit-HVP 100%) promoted the adhesion, proliferation, and differentiation of osteoblasts. On the other hand, the complete HVP functionalisation of chitosan had a negative impact on its natural antimicrobial properties. The best compromise between preserving the antibacterial properties of chitosan and supporting osteoblasts' differentiation and calcium deposition was found in the Chit-HVP 50% functionalisation.
The results of this research work open up future bone tissue engineering possibilities, including positive outcomes for those who suffered extensive bone loss due to trauma or pathologies, such as tumours.
Below the radio interview (in Italian) with Prof. Paola Brun and Prof. Monica Dettin on their research work:
ORIGINAL ARTICLE:
BIO-FUNCTIONALIZED CHITOSAN FOR BONE TISSUE ENGINEERING, BRUN P., ZAMUNER A., BATTOCCHIO C., CASSARI L., TODESCO M., GRAZIANI V., IUCCI G., MARSOTTO M., TORTORA L., SECCHI V., DETTIN M. (2021), INTERNATIONAL JOURNAL OF MOLECULAR SCIENCES, 22(11), 5916.