Overview on ACCELERATE, the H2020 project supporting CERIC's long term sustainability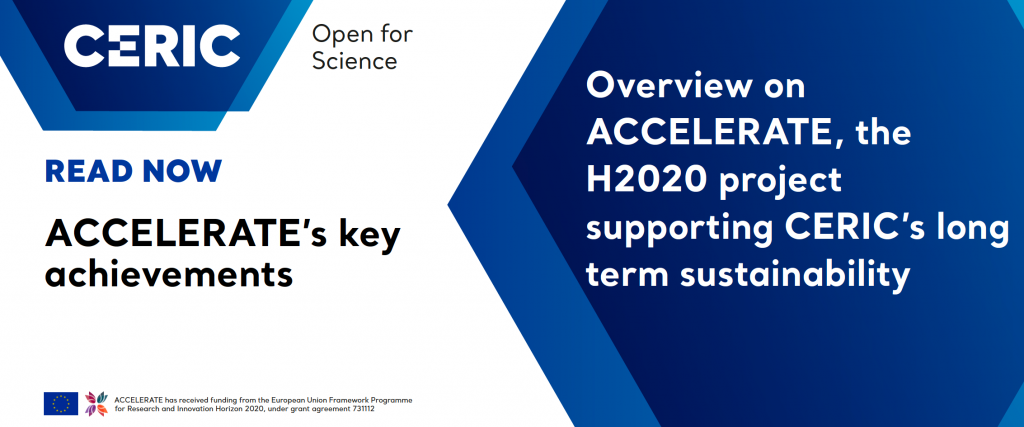 CERIC's coordinated H2020 project ACCELERATE aimed to support the long-term sustainability of large scale research infrastructures (RIs) in general and CERIC in particular. Its implementation period came to an end in June 2021, after 4,5 years of impactful activities and achievements.
The project's assessment has been finalized and its evaluators highlighted that the 'Project has delivered exceptional results with significant immediate or potential impact'.
The ACCELERATE project had a crucial role in supporting CERIC's development and for that, its major expected outcome was the development of CERIC's sustainability plan.
According to the project's reviewers: 'Building an ERIC is a marathon, not a fast-paced race and CERIC has achieved record times in maturing many of its core dimensions as an ERIC, in the first few phases of the race'. Of particular highlight are: the progress of CERIC, which was a RI established without any preparatory phase and strong governmental support, which is to be congratulated and a best-practice that should be observed elsewhere; also, and even more important, one may say, is its scientific excellence and the service that it provides to the scientific community (with a particular focus in Eastern Europe)'.
They have also concluded that 'As a result, competitiveness of EU research has been strengthened and the ERA has been strengthened in the global research competition.'
The development of CERIC's sustainability plan was supported by 4 main focus areas:
Ensuring CERIC at the forefront of excellent science: The activities implemented to this aim included:
The development of CERIC's science strategy (identifying Energy and Life Sciences as priority areas),
The development and improvement of open access procedures and policies, which among others: i) contributed to the fight against COVID-19, and ii) benefited also other Research Infrastructures through the exchange of expertise and publication of relevant best practices.
Bridging the Research and Innovation gap, by raising awareness about RI's open access opportunities among research communities in the Western Balkans through 12 outreach trainings and events.
Ensuring effective governance and management of CERIC: a set of events had been organized with the aim of exchanging best practices and key learnings on the most common challenges within the RI community. The topics tackled include: Human Resources, VAT exemption, In-Kind contribution, Impact assessment and RIs' Sustainability.
Stimulating industrial use of CERIC: from one side by strengthening CERIC positioning towards industry as an innovation ecosystem, and from the side by exchanging key learnings with the RI community on relevant topics
CERIC's financial sustainability: A change of the business model is proposed, whereby membership fees are to be introduced.
Relevant publications/reports:
At the end of the ACCELERATE project, CERIC wishes to thank the project partners for their invaluable contributions and the European Commission, for providing the funding, which was essential for the rapid development of CERIC.