Parkinson research shed lights on the iron-mediated interaction between alpha-synuclein and membrane models
|
Parkinson's Disease (PD) is a degenerative disorder in which the symptoms, mainly related to the motor system, are caused by the death of dopamine-releasing neurons in the substantia nigra region of the brain. The cause is still unknown but is believed to include both genetic and environmental factors. PD diagnosis is still based on symptoms, such as tremor and movement disabilities.  To achieve early diagnosis, a molecular picture of the disease is urgently needed. Postmortem PD patients' brain analysis reveals the presence of abnormal proteic structures called Lewy bodies, which contain aggregates of the alpha-synuclein protein, whose primary biological function is to bind to the regions of the neuronal membranes' trough which there's the release of neurotransmitters. Aberrant copies of this protein can form aggregates that are toxic for the neurons.  Recent studies pointed out the relationship between metal ions, such as iron, and alpha-synuclein, which gathers several metal-binding sites. Iron accumulation has been found postmortem in several PD patients' brains. However, it's still not clear whether higher iron levels trigger the aggregation of the proteins or if increased protein levels lead to iron accumulation.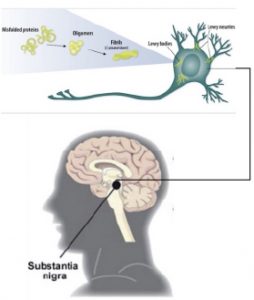 A research led by Loredana Casalis and Pietro Parisse from Elettra Sincrotrone Trieste and by Valeria Maria Rondelli from the University of Milan, in collaboration with Giuseppe Legname from SISSA, employed a novel approach to gather further insights. Atomic force microscopy and Infrared Spectroscopy, available at the CERIC Italian Partner Facility, were used to investigate the role of iron in inducing the aggregation of alpha-synuclein and its interaction with neuronal membranes. In this study were employed artificial membranes mimicking the composition of their natural counterpart. The study demonstrated how iron promotes a quick and robust protein aggregation in vitro. Furthermore, it was observed the accumulation of metal-promoted aggregates on specific membrane domains, strengthening the hypothesis in which they play a critical role in the development of the disease. Researchers hypothesize that the accumulation of iron in the brain promotes the aggregation of alpha-synuclein, which tends to accumulate on specific domains of the membrane, thus affecting a plethora of biological processes, such as the release of neurotransmitters. Understanding the development and the progression of Parkinson's Disease is essential for developing new therapies targeting specific cellular components.
This work was also featured on the science radio program RADAR, produced by the Italian broadcasting service RAI (in Italian).
Original Article:
IRON-MEDIATED INTERACTION OF ALPHA SYNUCLEIN WITH LIPID RAFT MODEL MEMBRANES, PERISSINOTTO F., STANI C., DE CECCO E., VACCARI L., RONDELLI V., POSOCCO P., PARISSE P., SCAINI D., LEGNAME G., CASALIS L., NANOSCALE, 12(14), 7631-7640, 2020