Ion Beam Assisted Deposition
NOT AVAILABLE IN THE CURRENT CALL FOR PROPOSALS
FAMA facility at Vinča Institute in Belgrade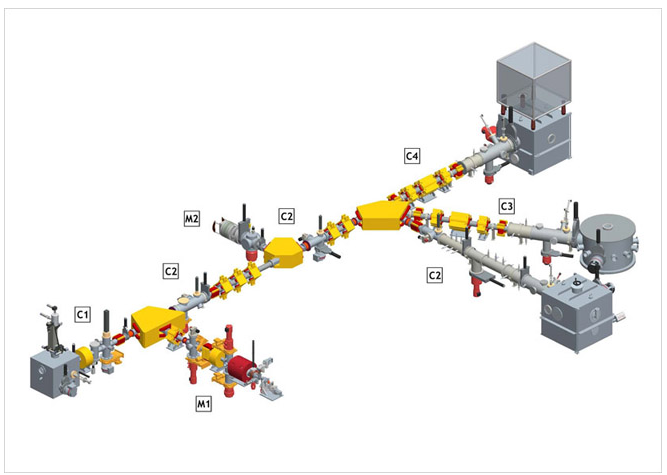 FAMA represents a user facility for basic and applied research in the field of analysis and modification of materials with ion beams. FAMA enables modification of materials with multiply charged heavy ion beams (M1) of energies of 10-20 keV per charge unit, and with light ion beams (M2) of energies of 15-30 keV.
Available instruments for modification of materials
Instrument for modification with multiply charged heavy ions
consisting of an ECR ion source (the M1 machine) and two ion beam transport lines with an interaction chamber each (the C1 and C2 channels)
Instrument for modification with positive or negative light ions
consisting of a multi-cusp ion source (the M2 machine) and an interaction chamber
Device for deposition of thin films
in the interaction chamber of the C2 channel
Contacts: Srdjan Petrovic and Petar Belicev
Technical specifications
Maximum sample size:
M1 machine: 60×60 mm
M2 machine and C1 channel: 100×100 mm
M2 machine and C2 channel: 40×40 mm
Beam size (without scanning):
M1 machine: 15×10 mm
M2 machine: Diameter 20 mm
Irradiation
The C2 channel is connected to the M1 and M2 machines and enables homogeneous irradiation of polycrystalline targets in the temperature range from +20 to +400 °C.
Ion beam assisted deposition (IBAD)
The interaction chamber of the channel is also equipped for applying the technique of ion beam assisted deposition (IBAD). The deposition is going on in vacuum, nitrogen or oxygen atmosphere. The materials that can be deposited are: Al, Is, Ti, Cr, Fe, Co, Ni, Cu and Pb. There are four containers for the material to be deposited, meaning that it is possible to form up to four layer structures. The obtained films (upon the deposition) can be bombarded by the beam from the argon ion source or the ECR ion source, inducing the mixing of the deposition and substrate materials. in this case, the sample cannot be heated.
Available multiply charged heavy ion beams
| | | |
| --- | --- | --- |
| Ion species | Ion charge state (q) | Ion energy (keV) |
| 4Heq+ | 2 | (10-20)xq |
| 12Cq+ | 2-4 | (10-20)xq |
| 14Nq+ | 4-6 | (10-20)xq |
| 16Oq+ | 3-6 | (10-20)xq |
| 20Neq+ | 6-8 | (10-20)xq |
| 40Arq+ | 8-11 | (10-20)xq |
| 84Krq+ | 8-15 | (10-20)xq |
| 129Xeq+ | 7-23 | (10-20)xq |
| 56Feq+ | 5, 6 | (10-20)xq |
| 64Znq+ | 7-10 | (10-20)xq |
| 208Pbq+ | 16-23 | (10-20)xq |
Other ion species are available, please contact the facility for more information.
The ion energy below 10xq keV may be obtained but at the expense of low ion current
Available positive or negative light ion beams
| | |
| --- | --- |
| Ion species | Ion energy (keV) |
| H– | 8-30 |
| H+ | 8-30 |
| H2+ | 8-30 |
| H3+ | 8-20 |
| D– | 8-18 |
| D+ | 8-18 |
| D2+ | 8-16 |
| 4He+ | 8-16 |
H2+ and H3+ stands for the molecular hydrogen ions, and D–, D+ and D2+ for negative, positive and molecular deuterium ions, respectively
The ion energy below 8 keV may be obtained but at the expense of low ion current