The CERIC 2nd 2022 Call for Proposals is open!
Call for proposals for access to integrated multidisciplinary facilities for Materials and Biomaterials
CERIC is calling for proposals for coordinated access to more than 50 instruments and support laboratories for research in all fields of materials, biomaterials and nanotechnology. Our labs and techniques are distributed in 10 countries, and are accessible by submitting single or multi-technique proposals. A detailed description of the facilities available in CERIC can be found here.The call is open to researchers from all over the world. In addition to the possibility to access several instruments through a single application, we offer support for mobility.
To apply, use the link "Submit a new CERIC proposal" in our Virtual Unified Office – VUO, at https://vuo.elettra.trieste.it/
Access to CERIC is open to scientists from all over the world and free of charge, provided the results end data are made available to the community in a reasonable time, according to our Scientific Data Policy.
Deadlines
September 1st 2022 at 17:00 CET to have a pre-evaluation and the possibility to improve your proposal
September 30th 2022 at 17:00 CET final submission, recommended only for users that are expert in all the techniques requested.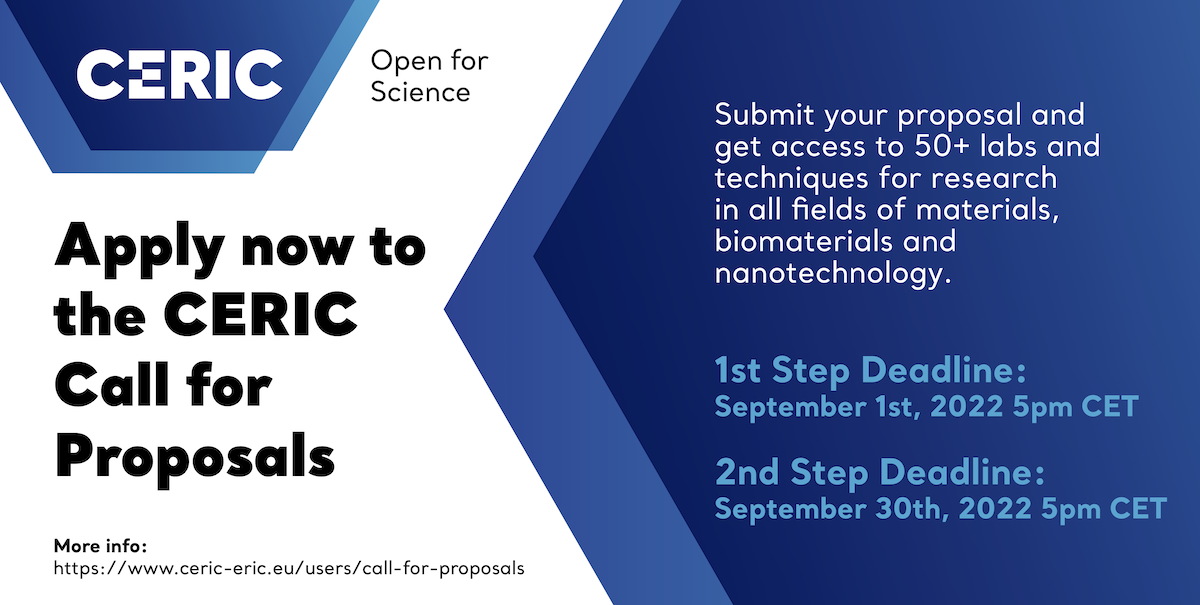 Find out more about the call, the techniques available and how to apply at this link.