Ionic liquids for the long-term storage of DNA samples
|
Nowadays, DNA plays a crucial role in many science and technology sectors. Molecular biology, forensic science, evolutionary biology, and others rely on the information that this fundamental molecule can store. However, the long-term storage of DNA is a common issue for all these fields since conditions like pH, ionic strength, and temperature variations can negatively influence the integrity of the DNA structure, thus impacting its usability.
The remarkable progress made in the field of ionic liquids (ILs) has stimulated the idea of exploring them as a medium for DNA preservation. In this regard, Dr. Barbara Rossi (Elettra Sincrotrone Trieste) and colleagues employed multi-wavelength UV resonance Raman (UVRR) spectroscopy, exploiting both Synchrotron and laser sources, to specifically detect heat-induced structural transitions in specific regions of large DNA molecules dissolved in imidazolium-based ionic liquids.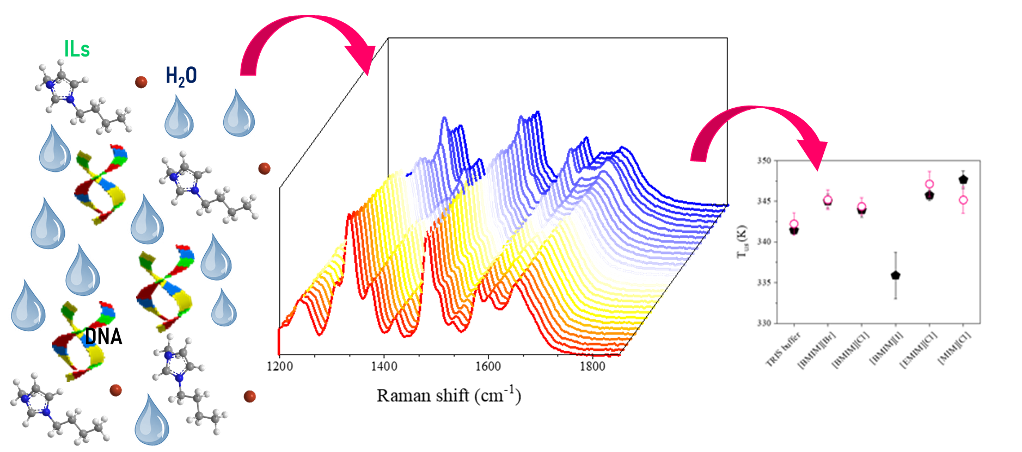 The Raman spectroscopy experiments were realised at the IUVS and IUVSOffline beamlines of the Italian CERIC partner facility at the Elettra synchrotron in Trieste. The study revealed the establishment of preferential interactions among the positively charged ions of the ionic liquid with the guanine-rich tracts of the DNA sequence, leading to a more effective stacking even at high temperatures, probably exerting a positive effect on the stability of the double-helix structure.
This work was published in the journal Physical Chemistry Chemical Physics (PCCP) and selected among the 2021 HOT PCCP articles. Results stemming from this work could facilitate the design of new strategies for the practical application of ionic liquids in DNA preservation, affecting multiple research and technology fields that rely on the long-term conservation of genetic samples.
Below the radio interview with Dr. Barbara Rossi and Prof. Andrea Mele on their research work:
ORIGINAL ARTICLE:
INSIGHT INTO THE THERMAL STABILITY OF DNA IN HYDRATED IONIC LIQUIDS FROM MULTI-WAVELENGTH UV RESONANCE RAMAN EXPERIMENTS, ROSSI B., TORTORA M., CATALINI S., VIGNA J., MANCINI I., GESSINI A., MASCIOVECCHIO C. & MELE A. (2021). PHYSICAL CHEMISTRY CHEMICAL PHYSICS, 23(30), 15980-15988.