ARRS Director visit at CERIC
Location
26 October 2018, Trieste - Italy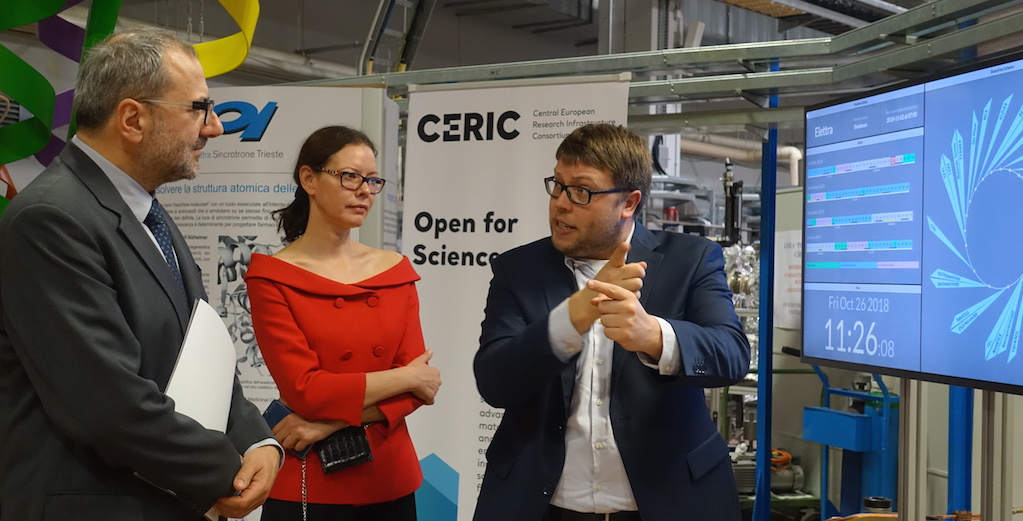 On the 26th of October, CERIC director Jana Kolar welcomed the Director of the Slovenian Research Agency – ARRS, József Györkös, at the CERIC premises in Basovizza, Italy.
Since its establishment in 2014, Slovenia was among the countries in the Consortium providing access to the NMR infrastructure at the Chemical Institute in Ljubljana. Therefore, Prof. Györkös was very well informed about the open access services offered by CERIC, which are supported by ARRS. The main focus of the discussion was rather on the possible ways of leveraging existing funding sources and creating synergies among them, as it already happens with the joint use of ordinary and structural funds.
In addition, the value of CERIC for the Slovenian research community was discussed. Besides Croatia and Czech Republic, Slovenia is the CERIC member country with most proposals submitted per researcher in a country. It is also a beneficiary of the CERIC's internal research project Dyna Chiro, funded by CERIC through the Italian Ministry of Education, University and Research – MIUR, and in which Slovenia is involved through the participation of the University of Nova Gorica.
Kolar and Györkös also recalled with great enthusiasm one of this year's success stories of two Slovenian users of CERIC, Bor Kolar Bačnik and Mitja Denac. The two pupils from the high school Gimnazija Vič in Ljubljana are the youngest CERIC users, who received golden medal in USA, and silver in China for their research in the field of cultural heritage. Their findings, which will equip conservators with superior paper treatment solutions, were also presented at the Science in the City Festival at ESOF 2018 in Toulouse earlier in July, giving even greater visibility to their research and to all the institutions that contributed to its results, namely Pulp and Paper Institute in Ljubljana, National Univeristy Library in Ljubljana, Gimnazija Vić and CERIC.
A presentation followed by the president of Elettra, Alfonso Franciosi, on the synchrotron and the upcoming Elettra 2.0 project for the infrastructure's upgrade.
The meeting ended with a visit of the Synchrotron Elettra and of the production site of the Kyma S.r.l. in Sežana (Slovenia), with the CEO, Mauro Zambelli. Kyma, which is a spin-off of Elettra-Sincrotrone Trieste, is now a successful Slovenian company where the undulators, also installed at the Elettra Synchrotron and at the FERMI free electron laser in Basovizza, are prototyped and manufactured.